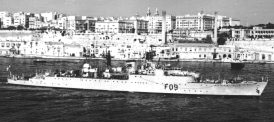 Pendant Number: F09
Original Number: R00
Callsign: MDSQ
Cdr. (X) N.J.S. Hunt MVO (In Command) 08/06/1964
Lt. Cdr. Barton (1st Lt.)
Lt. Cdr. (Eng.M.) B.J. Austin 07/09/1964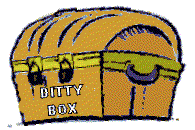 During my time on Troubridge 05/09/1964 to 04/02/1966, Troubridge was part of the 27th Escort Squadron that consisted of:
Galatea (Capt ES)

Agincourt

Carysfort

Troubridge (Canteen boat)
For most of the time Galatea and Troubridge were in Home and Med waters and Agincourt and Carysfort out the Far East Station. We eventually met up in Lisbon and Gibraltar.
HMS TROUBRIDGE was originally built as a 'T' class destroyer (1,730 tons) built and laid down by John Brown on 23rd September 1942 and was completed in 1943. (Ship adopted by Walthamstow London). During 1955-57 she was converted to a Type 15 frigate (2,240 tons). I served on her from 5th September 1964 to 4th February 1966, once again mainly in the Mediterranean.
The BBC radio comedy team (Leslie Phillips, Jon Pertwee, Ronnie Barker etc.) of the "Navy Lark" (HMS TROUTBRIDGE) were closely linked with the ship. Their "Ships Badge" was very similar to ours with the exception that the bridge in the centre of the badge was broken! The tapes of the "Navy Lark" were specially sent to the Troubridge and were often played over the SRE.
HMS Troubridge had refitted in Malta and was one of the ships that were there for Malta's Independence Day on Monday 21st September 1964. Lord Louis Mountbatten represented the Queen in the authoritative hand-over.
On one occasion we were used by a film crew to portray an American warship in the film "The Bedford Incident" starring Richard Widmark. The ship was at 'Action Stations' when the cameras rolled and was used as part of the film.
It was on this ship that we experienced hurricane force winds (force 12 on the Beaufort Scale) whilst exercising above Northern Ireland. There was damage to the Fo'c'sle ladders which were made of aluminium, they were twisted with the force of the wind and waves but I don't recall any further loss or breakage's other than the odd plate or two. I guess skill and a lot of luck brought us through the storm.
In April 1967, RO2(G) Richard Ford joined HMS Troubridge for a phased General Service Commission including 11 months East of Suez. Richard takes over the details.
"We went round the Cape, put in at Simons Town and did the obligatory Beira Patrol before joining up with Task Force 345 to cover the withdrawal from Aden (Think that must have been the other way around !). Following this we split off from the Task Force in company with HMS Cavalier and headed for the Pacific for RANEX etc.

On completion of this, funnily enough, having read of your heavy weather experience in home waters, both Troubridge and Cavalier headed in company for Adelaide, in the process encountering cyclonic weather, the worst I went through in 14 years service. Both ships took storm damage. Foc'sle, companionways ripped off, Bofors gun ring stove in, that sort of thing.

We stayed in company visiting Melbourne, Sydney, Newcastle, and Hobart.

We returned home via more Beira Patrol and a stint as Guardship at Gibraltar, visits then to Monaco and Gaeta in Italy, Thence to Lower pool of London where the Navy Lark cast and several ex matelots from her wartime service came on board to sign hats, drink our rum (Those people never heard of sippers!) but we didn't mind.
We got free tickets to the Simon Dee show in London which could be the subject of a whole different letter - talk about a performance (Jack style, that is!)
We then paid her off in Chatham, mid to late 1969, and as you point out subsequently she went for scrap.

Her skippers from 1967 to 1969 were 'Black Taff Thomas' Lt Cdr and subsequently Cdr Robin Doe, a Fleet air arm pilot getting his Bridge time in, really nice guy, cleared lower deck after a particularly ignominious attempt at a RAS(L) when we had to do an emergency breakaway and everyone was covered in FFO, said he was frightfully sorry, wasn't used to driving one of these things, and thanks to everyone on the iron deck for fending us off the Royal Fleet Auxiliary Orangeleaf (I think it was). He had a lot of style".
On 27th February 1970 she was sold to Cashmore and broken up in Newport.