Ship's Badges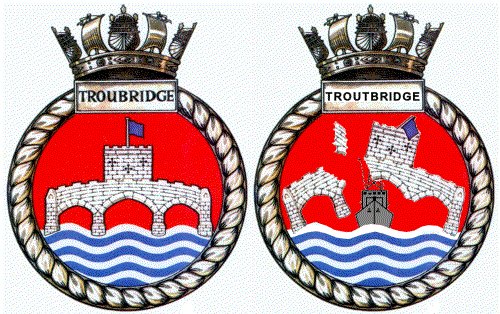 Mottoes
---
H.M.S. TROUBRIDGE is named after Admiral Sir Thomas Troubridge (1758-1807) who was a contemporary of Nelson. He became a famous fighting Admiral and gained renown when in the battle of Cape St Vincent in 1797 he joined Nelson in attacking the Spanish ship Santissima Trinidad, the largest ship in the world. Nelson said of him that he was 'the very best Sea-officer in His Majesty's Service'. The Ship's Badge of HMS Troubridge depicted the Arms of the family name Troubridge.
The "Navy Lark" created their own badge which was similar to Troubridge's Badge. The difference being that they depicted a ship (Troutbridge) breaking through the bridge at a great rate of knots!
The Troutbridge badge was created and based on a 'black and white' photo I'd seen earlier that showed only part of the badge. Since then Richard Cummings has sent a photo of the full badge.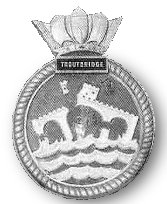 The Communications staff used to have the Troutbridge's badge in the Main Wireless Office under the Perspex on the signal desk.